Congratulations to SUNYIELD's Customers on Winning Orders from China Mobile
More than 50% of the Order-winning Enterprises are Customers and Collaborators of SUNYIELD
On June 20, 2017, China Mobile Sourcing & Bidding Website (https://b2b.10086.cn) had publicly announced that a number of outstanding enterprises have won bids in Centralized Procurement Projects of Base Station Antenna for China Mobile 2017-2018.
As the world's leading telecom operator in terms of network and customer sizes and market value, China Mobile has very strict verification standards for base station antenna procurement. For antenna manufacturers, winning orders from China Mobile is a clear demonstration of technical strength and professionalism. All awarded antenna manufacturers own professional antenna measurement systems and testing sites, among which 7 enterprises are SUNYIELD's customers and collaborators, accounting for more than 50% of the total.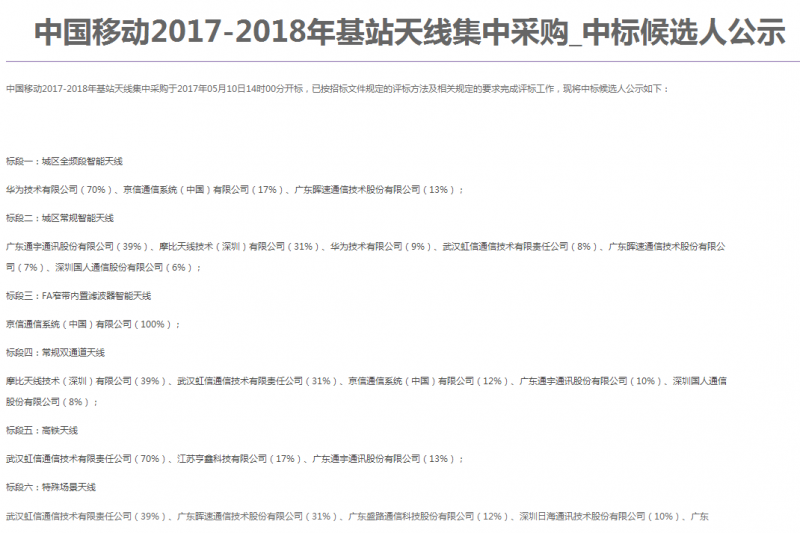 Congratulations to Customers and Collaborators of SUNYIELD Customers for Winning the Bids
Sunyield Technologies would like to take this opportunity to congratulate every customer for winning orders from China Mobile, and wish every customer go further in technical advancement and become bigger and stronger in market competition.
The Role of Antenna Measurement System in Antenna R&D and Manufacturing
Antenna measurement is an indispensable means and method for the design and verification process of modern high performance antenna, which is directly related to the practicability of the supporting system. Antenna testing is also an important means of product quality inspection, which verifies whether the antenna performance meets the design requirements and the establishment of antenna database. In conclusion, the design of high-performance antennas cannot be separated from the guidance of high-precision measurement systems.
Sunyield Technologies Always Service You 
Antenna testing is a complex process, which incorporate such content as the theory of electromagnetic field, antenna principle, antenna measurement, mechanical control, high performance equipment, computer software, calculation and processing of electromagnetic field data and etc. Engaged in the field of antenna testing for many years, Sunyield Technologies not only focuses on technical research and development and innovation, but also concerned about the real needs of customers to better service customers wholeheartedly.
Sunyield Technologies cannot make current achievements in the antenna testing field without customer's support and trust. Thank you for choosing SUNYIELD, and SUNYIELD will always service you.
admin