Jiangsu JST Group Signed Contract for SY-168, SUNYIELD's Flagship Antenna Measurement System
Home
industry&customer
Jiangsu JST Group Signed Contract for SY-168, SUNYIELD's Flagship Antenna Measurement System
Jiangsu JST Group has chosen the SY-168, Sunyield's flagship system to further improve the test capability of base station antenna. Sunyield Technologies sincerely appreciates JST Group's trust and support, and will build the most standard wireless measurement system with sincere service and provide comprehensive after-sale service for JST Group.
About Jiangsu JST Group

Jiangsu JST
Jiangsu JST Group was established in 1997. After nineteen years' development, JST has become a national high and new tech enterprise with about 1 000 employees. The registered capital of JST Group is 10.028 million yuan while the enterprise covers a factory area of about 0.278 million square meters. In addition, its headquarter is located in Nanjing while there are three intelligent manufacture bases established in Jiangsu. JST Group owns four subsidiary companies including Jiangsu JST Technology Co., Ltd, JST Technology (Nanjing) Co., Ltd, Jiangsu JST Radio Frequency System Co., Ltd., and Jiangsu Jiaqisheng Technology Co., Ltd.
JST Group provides information technology as well as intelligently manufactured product solutions, offering products such as antenna radio frequency products, intelligent equipment cabinets, high-end equipment radiators and structural parts professionally. JST Group is equipped with rich manufacture experience in precision die-cast, precision cutting processing, precision sheet-metal, mold design and manufacture, surface processing, material composition. Centered on supply chain, technology chain and resource chain, JST Group develops from single product production to integrated service of terminal-to-terminal system products through deep integration. By constantly improving independent design, precision manufacture of industry chain, overall product installation and adjustment as well as program service level, JST Group has formed an integrated development mode of products for industrial intelligent platform.
Based on informatization management system, JST Group has achieved the standardization of its intelligent factories and production mode with dynamic configuration as well as provided service platform for customized products. Relying on the integration advantages brought by its complete industry chain, JST Group has currently become a mainstream provider for international leading enterprises including Ericsson, Huawei, Nokia, Emerson, Datang mobile, etc.
The products are widely used in mobile communications, aerospace, military, automotive electronics, and new energy technology etc. While maintaining dominance in the domestic communications market, JST Group also export products to more than 10 countries and regions, including India, Japan, Germany, Sweden, Brazil, Mexico and so on.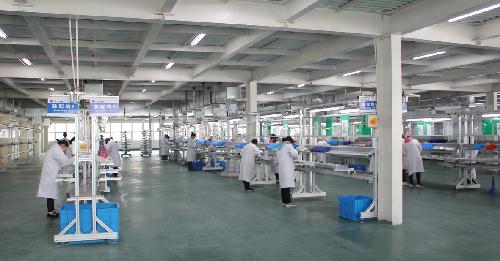 JST Group
In this project, JST Group has chosen Sunyield's flagship system, the SY-168 with high density probes. The system can achieve fast measurement with powerful function, and will help JST Group to further improve test capability of base station antenna.
Sunyield SY-168, a Large-scale Antenna Measurement System
SY-168 supports both active and passive antenna measurement. With a 2° probe sampling density, it can achieve more accurate and convenient measurement and calculation, especially suitable for base station antenna and large-scale antenna measurement with the diameter of object under test less than 3.25 meters.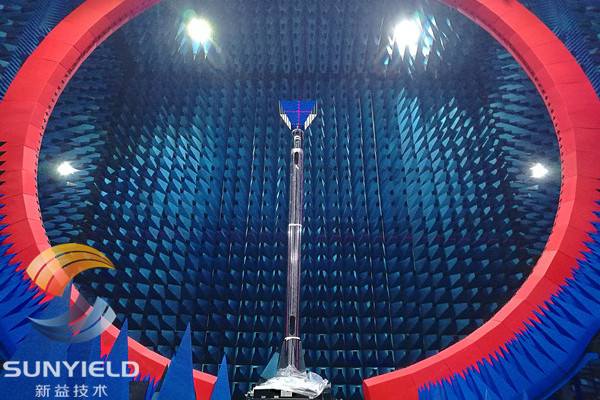 SY-168系统
Advantages of SY-168 System
Faster measurement: It allows real-time viewing of passive pattern and adopts symmetrical distribution of probes. Thus, the object can be fully 3D measured as long as a 180-degree rotation is performed horizontally under normal circumstances. The software supports fully automatic realization of test function and can automatically generate test reports.
Powerful function: It supports both active and passive antenna measurement, especially suitable for base station antenna measurement.
admin