At present, SATIMO OTA (Star, SG-24, lab room SG64, SG128) system can only support the common 4G LTE test。But with the continuous popularity of GSM, support 4G, CDMA, WCDMA, LTE multi-mode mobile phone will become the mainstream of the market. So two modules work interfere with each other in tis rollback, will be subject to a storage network testing attention, it will become necessary inspection item. Therefore, the Sunvey based on the trend of the development of technology and market demand, according to the existing SATIMO system to carry out the mutual interference test module.
After the upgrade of the mutual interference test module, the following three types of mutual interference tests will be supported.
1. According to the types of SG/SV terminal test is divided into three types
a) GSM, CDMA, W and other interference test for LTE
LTE as a test object, first test TIS clean environment. Then increase the interference band connection, control DUT in GSM or CDMA high \ in \ low channel at maximum power work. Scan LTE target channel TIS, TIS view of the interference of deterioration.
b) WLAN interference of LTE,
LTE (especially the B40, B41 TDD band) when the interference testing, LTE as a test object, first test under clean environment TIS, after increasing the WLAN connection, WLAN control the DUT from Channel 1 to Channel 13 at maximum power work. LTE B40 scan target channel, view the WLAN interference LTE TIS deterioration;
c) LTE interference of WLAN LTE
WLAN as a test object, first test under clean environment under WLAN TIS target rate and the channel of work. Then add LTE connections at the highest power control LTE work, WLAN scanning the scan target channel TIS, see the next WLAN interference of LTE TIS deterioration.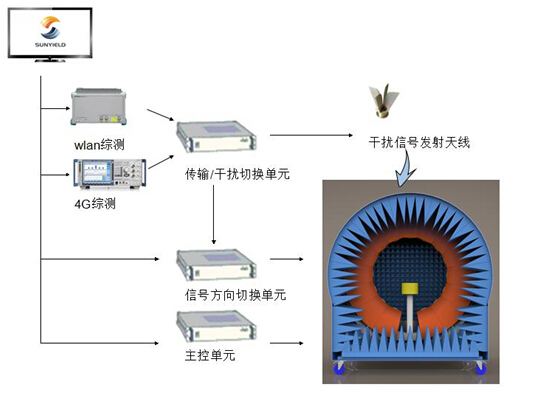 2. For CSFB type terminal testing mainly above b, and c.
3. Increase two-way band for DSDA type terminal mutual interference test, a test similar to the above a.
Sunvey of mutual interference test module can be a perfect match SATIMO existing systems and software. To bring relevant technical staff at work after the upgrade tremendous convenience and improve work efficiency; to bring accurate and reliable test results are consistent, so that the test data to better reflect the true performance.
admin