Product Overview
SYCR-Handy is a small size compact range measurement system developed by Sunyield Technologies for millimeter wave detection field. Offset feed design is adopted to form a cylindrical quiet zone within a longitudinal separation of 2 ~ 3 meters. It features easy deployment, easy mobility, and fast implementation.
Scope of Application
SYCR-Handy is applicable to testing of millimeter wave antenna, radar, and millimeter wave detector, and once equipped with Sunyield one-dimensional turntable, the user is able to select the section to be tested. The testing mode can be applied to both active and passive at the same time so long as the test object is within the size of designed quiet zone.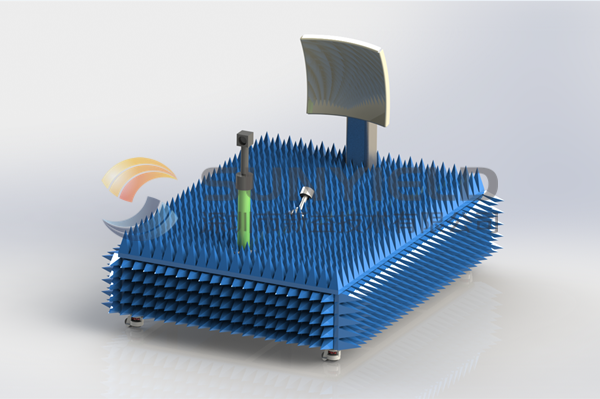 Testing Capability
Frequency Range: From 2GHz~ up to 200GHz;
Quiet zone amplitude taper:≤±1dB
Quiet zone amplitude ripple:≤±0.5dB
Quiet zone amplitude ripple:≤±5°(<18GHz)
Reflector projection size:0.3~3.6m
Testing item: Active/passive directivity pattern; gain, and cross polarization etc.
System Configuration
Integrated edge reflector surface roughness<20um(RMS), more space saving compared to conventional serrated reflector;
One-dimensional bearing turntable, test fixture an electric auxiliary shaft can be customized according to user needs;
Full shielding non reflection of microwave anechoic chamber;
Adjustable feed clamp and corresponding band corrugated horn feed;
Movable base, convenient for user to place and deploy;
System Parameters
According to user requirements for different size of quiet zone, it can provide reflective surface of 1.2 m ~3.6 m projection aperture for selection, and can provide dead zone with a size of 0.1 ~1.6m.
Product related