Product Overview
SPCR–Parallel is a planar and cylindrical near field integrated scanning system developed by Sunyield Technologies for R&D and mass production phase. It mainly used in detection of the aperture plane radiance of the small and medium directional radiation antenna, and features low requirements for installation environment, fast detection and strong expansibility.
Scope of Application
SPCR–Parallel applies to antenna test with strong directivity, such as dish antenna, radar and small phased array antenna, supports frequency test up to 90GHz through application of different link schemes, and also supports multi-probe test for frequency below 18GHz to greatly improve the test efficiency.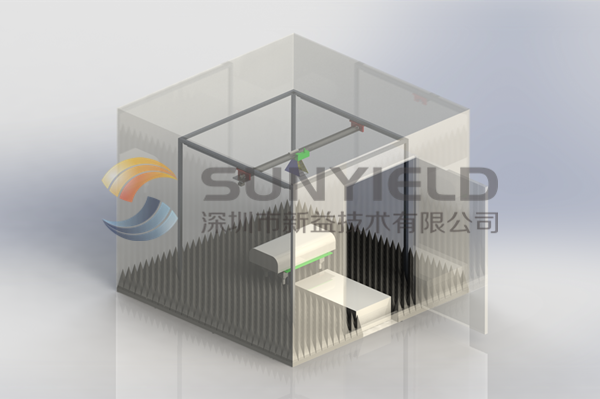 Testing Capability
Frequency Range: From 10GHz~ up to 90GHz;
Testing Range: Directional antenna, antenna array monitoring, large-scale MIMO multi-beam test; multi-array amplitude and phase correction; beam target tracking, and automobile collision avoidance radar sensor;
Testing item: Active/passive directivity diagram; gain, and cross polarization etc.
System Configuration
High precision XYZ full servo motion scanning mechanism;
Measured cap, including longitudinal axis, can perform cylindrical near field test;
Full shielding non reflection of microwave anechoic chamber;
Active and modulation signal test support;
Automated data processing system (including data conversion between near field and far field);
System Parameters
Frequency Range
10GHz~90GHz
Measurement Accuracy
Amplitude≤0.2dB

Phase≤2°

Beam test error
≤1/8beam width
Beam pointing error
≤1/40beam width
Maximum measurement error of gain measurement
≤0.5dB(standard gain horn error excepted)
Maximum measurement error of side-lobe level
≤1.0db@-25db side-lobe

≤2.0db@-35db side-lobe

≤3.5db@-45db side-lobe
Product related