Sunyield Technologies Breaking Monopoly of Foreign Companies Attracted Widespread Media Attention
Home
industry&customer
Sunyield Technologies Breaking Monopoly of Foreign Companies Attracted Widespread Media Attention
As the earliest company in China to carry out research into near field multi-probe measurement technology, Sunyield Technologies has devoted to technical innovation in antenna measurement field and achieved substantial results over the years. Sunyield Technologies has acquired dozens of patents and software copyrights, and developed a series of antenna measurement system with world- class standard technology, including SY-16M (16 probes), SY-24(24 probes), SY-64/68(64/68probes), SY-128(128probes), SY-168(168probes), SPR-3000(fast measurement of base station antenna), SPR-650(fast measurement of terminal antenna) andSYH(high frequency measurement), SY-MIMO(Integration of SISO OTA measurement and MIMO measurement), and has become the one of first companies in the world to achievereal-time active TRP and TIS measurement。
Sunyield's achievement has attracted attention in the industry. The largest third-party wireless testing lab in China, invested by Xingci Testing, a subsidiary of Shenglu Communication and developed by Sunyield Technologieshas been founded in Guangdong in November 2016. Sunyield Technologies breaking monopoly of foreign companies has attracted widespread media attention and coverage.
"Recently, in a special meeting of China Antenna Alliance, industry professionals have discussed and agreed that Sunyield Technologies has breakup the long-term technological monopoly of foreign companies as a private enterprise in China, and the testing industry are very proud of it"Mr. LuoJianhua, general manager of Guangdong Xingci Testing told reporters. We are currently in the forefront of this technology in the world, with technical index better than similar products in foreign countries and price 20% lower. More importantly, foreign companies previously only provide standardized products, but antenna testing solutions by SunyieldTechnologies can better meet customized product requirements of downstream enterprises.
In November 1, 2016, China Economy Net reported "China's largest wireless testing lab established in Guangdong", and mentioned that "China's largest wireless testing lab with equipments developed by Sunyield Technologies was founded in Guangdong, which will provide testing service for external insitutions and enterprises. The establishment of the lab will greatly reduce the R&D cost within the industry. The lab, with equipments developed, installed and commissioned by Shenzhen Sunyield Technologies Co., Ltd., is built by Shenglu Telecommunication Tech. co., LTD. For the first time, the technical performance and efficiency are better than similar products by foreign companies, but the cost is reduced by 20%. "As the first private enterprise in China to breakup technology monopoly of foreign enterprises, Sunyield Technologies has twice acquired dedicated fund support from Shenzhen Science&Technology Innovation Committee.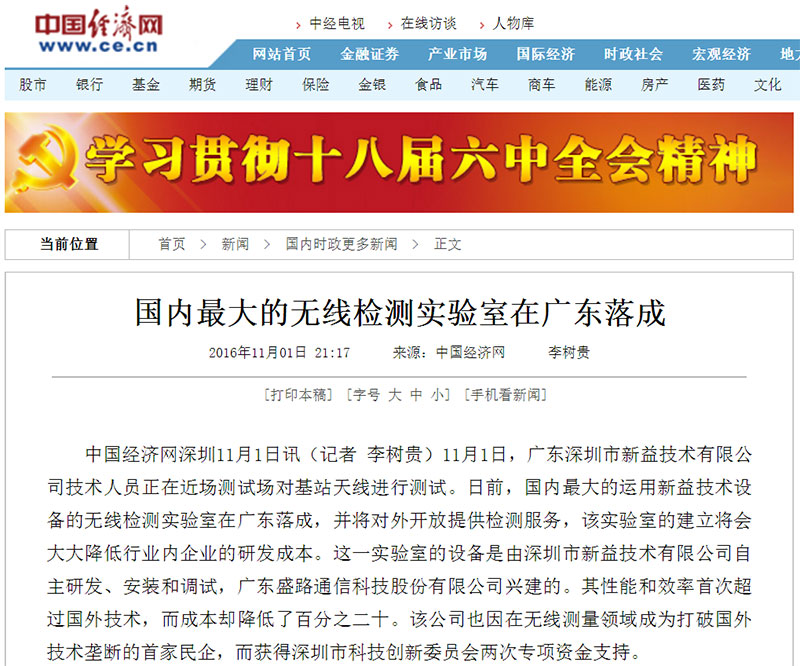 China Economy Net coverage of Sunyield Technologies
In November 2, 2016, China Business Times reported "A technical man's dream to make contributions to his country by setting up great enterprise", an exclusive interview on Mr. Chen Linbin, founder of Sunyield Technologies. In the report, it mentioned that "the original intention of Mr. Chen Linbin's endeavor to set up the business is aiming at spherical near field antenna measurement system, which is the most advanced and efficient application in the antenna measurement industry, and striving to break the monopoly of foreign manufacturers on domestic industry". China Business Times also interviewed Tongyu Communication, an important client of Sunyield Technologies.
Tongyu Communication is dedicated to base station antenna for more than 20 years. With top 3 domestic market share, Tongyu Communnication is the first manufacturer in China to build a base station antenna. As for the reason to choose Sunyield Technologies's product, Mr. Liu Mulin, Technical Director of Tongyu Communication said, "We have carried out an investigation and survey before we choose Sunyield rather than foreign suppliers. Firstly, in terms of performance and efficiency, products developed by Sunyield has catched up with international level; secondly, it is out of cost consideration; and thirdly, Sunyield's technology proves to be very professional in near field test area. "During the interview, Mr. Chen Linbin told the reporter about why he chose this area, "Firstly, I have worked in the industry for a very long time and I am fully aware of the development opportunitites in the industry. Secondly, If we do not strive to be a pioneer in the industry, China is likely to be suppressed for a long time by foreign products"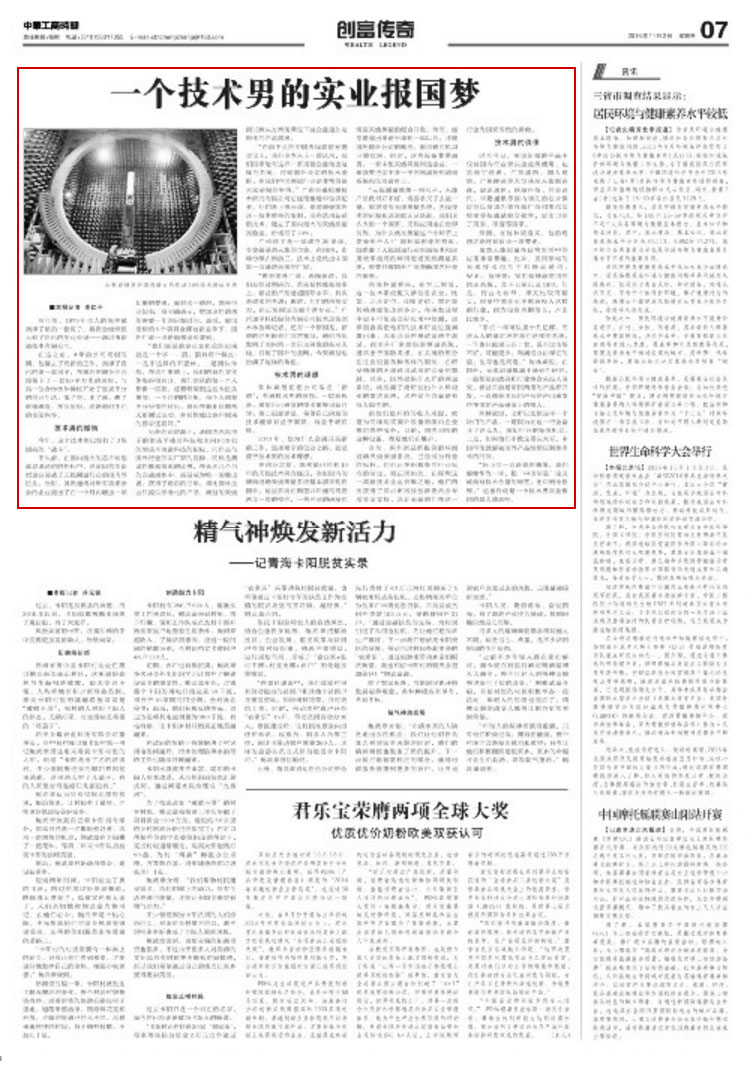 China Business Times Coverage of Sunyield Technologies
In November 3, 2016, Successful Application of Antenna Near Field Static Area Test, a Picture Report on Economy Daily mentioned "The company (Sunyield Technologies) has successfully applied independently researched and developed antenna inspection technology for spherical near field static area, and the technology has reached international level"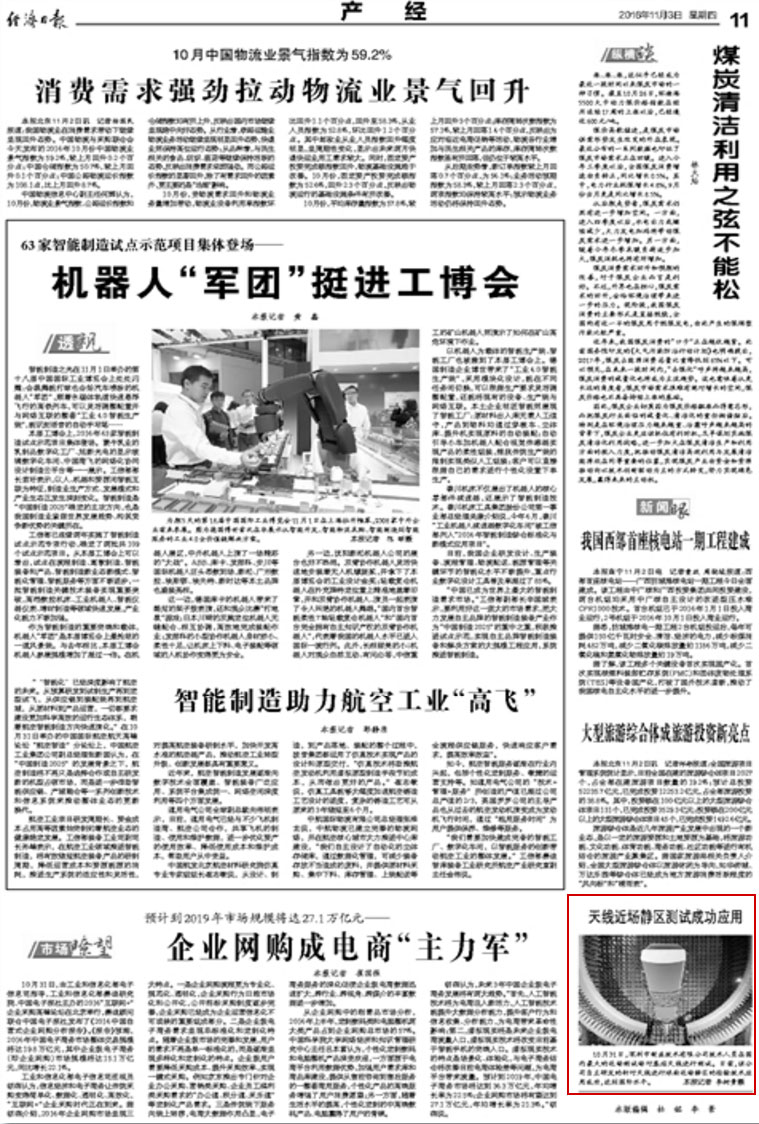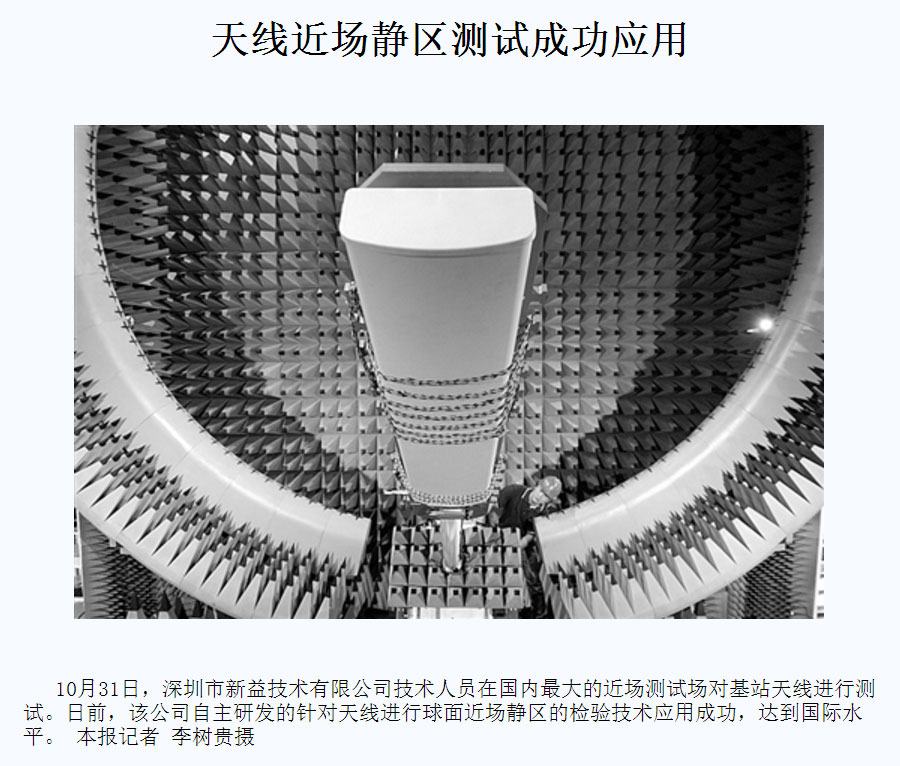 Economy Daily Coverage of Sunyield Technologies
In November 5, 2016, Science and Technology Daily pulished a piece of photo news, with subtitle "Recently, China's largest wireless testing lab with equipment developed by Sunyield Technologies has been establised in Guangdong and will provide testing services for external institutions and enterprieses. The establishment of the lab will greatly reduce the R&D cost within the industry."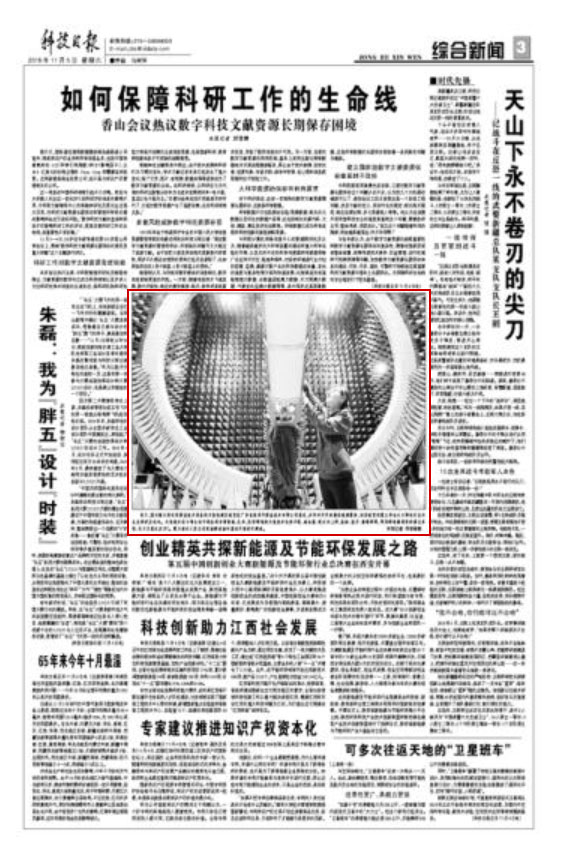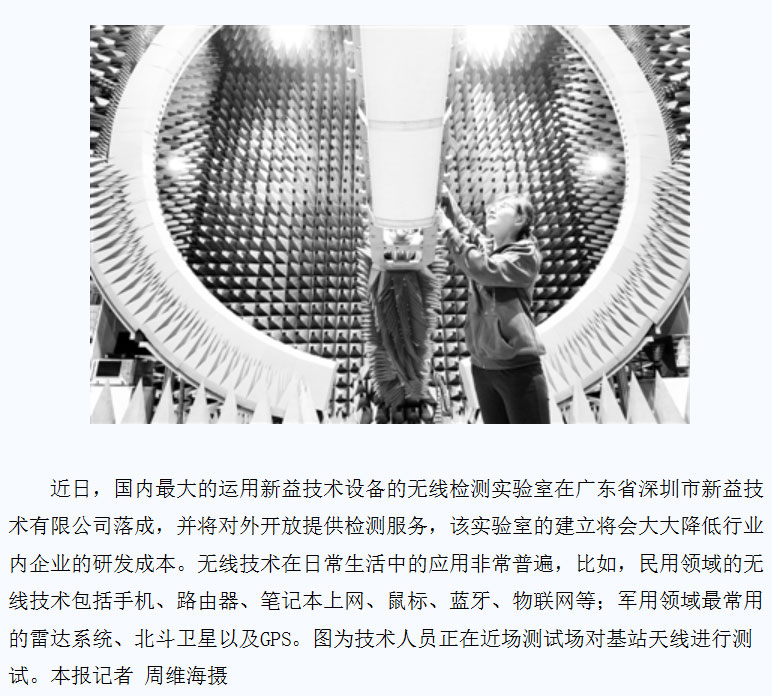 Science and Technology Daily Coverage of Sunyield Technologies
In November 5, 2016, Economy Daily pulished a piece of photo news titled "New Technology breaking monopoly of foreign enterprises". In the news, it mentioned that "after 5-year development, the technical team has expanded from 2 to more than 40, and achieved more than 20 national patents and Sunyield Technologies has obtained the national high-tech enterprise qualification. Currently, products and technologies developed by Sunyield Technologies are not only adopted by leading domestic enterprises in the industry, but also exports to foreign countries as USA and India. "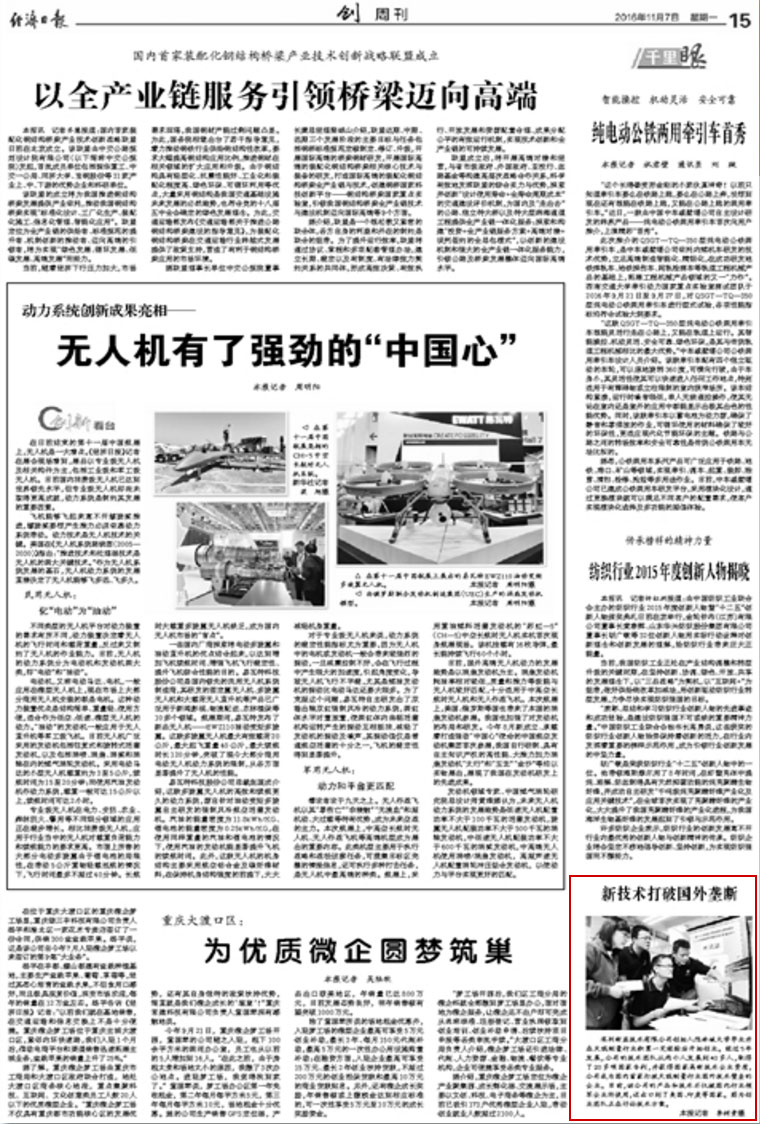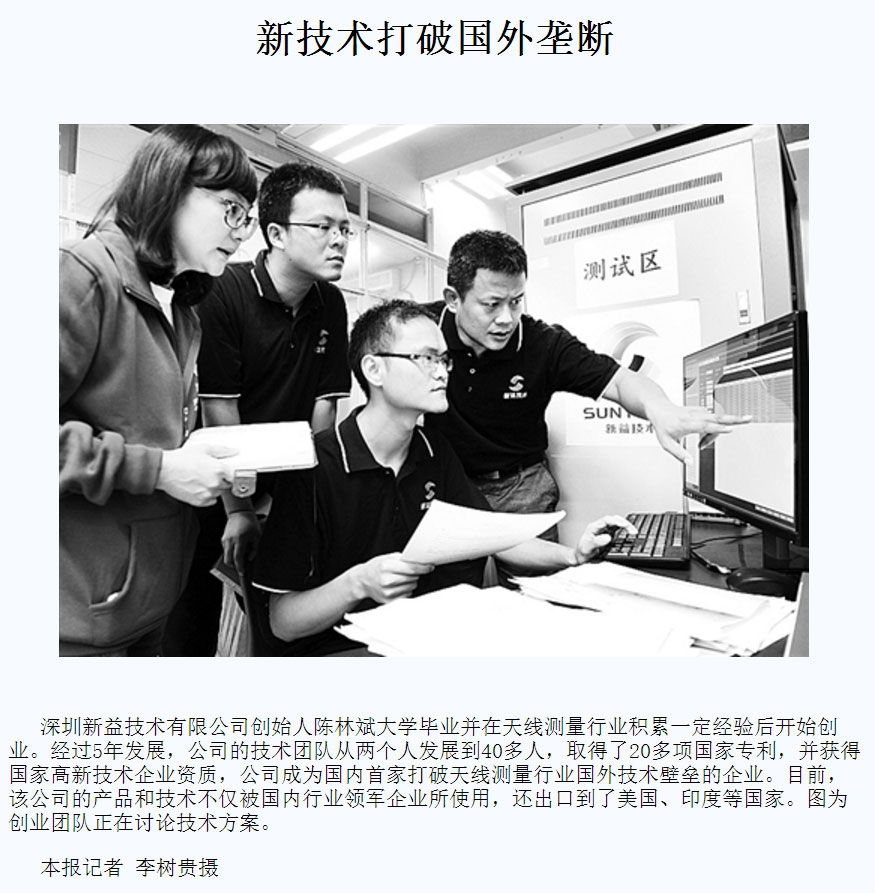 Economy Daily Coverage of Sunyield Technologies for the Second Time
Notes:
Links to news reports mentioned above:
1. China Business Times http://epaper.cbt.com.cn/epaper/uniflows/html/2016/11/02/07/07_62.htm
2. Economy Daily http://paper.ce.cn/jjrb/html/2016-11/03/content_316540.htm
3. China Economy Net http://www.ce.cn/xwzx/gnsz/gdxw/201611/01/t20161101_17418601.shtml
4. China Finance http://finance.china.com.cn/roll/20161102/3966744.shtml
5. Science and Technology Daily http://digitalpaper.stdaily.com/http_www.kjrb.com/kjrb/html/2016-11/05/content_353435.htm?div=0&from=groupmessage&isappinstalled=0
6. Economy Daily http://paper.ce.cn/jjrb/html/2016-11/07/content_316820.htm
admin