Sunyield Ungraded Existing European System to Support NB-IoT Testing
In April 2018, Sunyield Technologies completed the upgrade of an existing antenna measurement system manufactured by an European supplier. In the past, domestic customers has no choice but to buy imported measurement system. At present, Sunyield Technologies is able to supply antenna measurement system with world class technology and provides better products and services for customers around the world.As new technology develops day by day, with the application of 5.8G Wi-Fi and the approaching of Internet of Things (IoT), the existing  antenna measurement system can hardly meet the latest testing requirements. On the other hand, periodical maintenance and calibration of the OTA measurement system can further enhance the reliability of testing results.
Software and Hardware Upgrade
The entire antenna measurement system consists of software system and hardware system. In this case, the upgrade can improve the performance of each subsystem respectively and the entire system as a whole.
Software: Sunyield Technologies has invested a large amount of money and resources to research and develop antenna measurement related software with performance among the leading level in the industry.
In this upgrade, Sunyield supplied self-developed software to cover the 5.8G Wi-Fi, and Internet of Things (NB-IoT, eMTC) testings that were not supported by old system to provide customers with more possibilities for R&D testing.
Hardware: As the antenna measurement systems require high stability and accuracy, periodical maintenance and calibration can bring better user experience to customers. In this upgrade, Sunyield replaced the probes, RF links, and other wearable parts for customers and recalibrated them so that the overall system performance is dramatically improved comparing with the original system.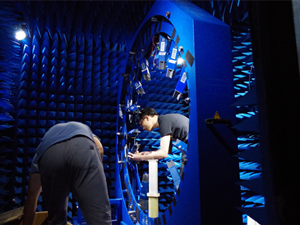 About Sunyield
Sunyield Technologies has been focusing on technological innovation and market expansion in the field of antenna measurement for many years and is actively engaged in research and development of cutting-edge testing technologies such as 5G OTA and OTA total solutions as Internet of Things and car networking. It is determined to become a leading supplier of antenna measurement systems in the world.
Based on advanced technologies at home and abroad, Sunyield Technologies has researched and developed a wide variety of spherical, planar and cylindrical near-field antenna measurement systems, compact range antenna field measurement system supporting mm-wave test, and far-field measurement systems with word-class technology standards and support the vast majority of active and passive testing.
Sunyield Technologies has a wide range of products and provides a full range of antenna measurement system solutions as well as measurement system products such as turntable, reference antenna and microwave absorbing materials etc. It also undertakes calibration, maintenance and relocation of measurement system for customers.
Scope of Service
Maintenance: Quick response to requests for troubleshooting and maintenance of existing antenna measurement systems;
Calibration: system gain calibration and system probe calibration;
Relocation: System performance confirmation, system removal, relocation, installation and calibration;
admin