ZHONGTIAN XUN Signed Contract for SY-24 System Supporting NB-IoT and eMTC
Shenzhen ZHONGTIAN XUN Communication Technology Shares Co., Ltd. has recently signed a purchase contract with Sunyield Technologies for the SY-24 antenna measurement system, the first Sunyield system supporting the NB-IoT and eMTC test standards. Sunyield Technologies would like express sincere appreciation for ZHONGTIAN XUN's trust and support, and will set up a perfect measurement environment and provide a complete set of after-sale services for them.
About ZHONGTIAN XUN
Founded in 2004, Shenzhen ZHONGTIAN XUN Communication Technology Shares Co., Ltd. has established a fully equipped production base in Shenzhen for the R&D, production and sales of all types of antenna products for mobile communication equipment and development of hardware stamping parts. The main products include: built-in antenna (multi-loop frequency band antenna, PIFA antenna, Monopole antenna); external Stubby antenna; WLAN network card antenna; Bluetooth antenna; mobile phone GPS antenna; digital cordless telephone antenna; 900-1800MHZ, 2.4G and 5.8G GSM antenna; PHS antenna, SCDMA antenna, and 3G antenna; wireless fixed antenna, and RFID antenna etc. With strong product R & D capability, a monthly production capacity of over 1.2 million antennas, and target monthly production capacity of over 3 million antennas, ZHONGTIAN XUN has become one of the biggest terminal antenna manufacturers and suppliers in China.
We believe the Sunyield SY-24 antenna measurement system will assist ZHONGTIAN XUN in high-quality antenna manufacturing, and jointly promote the development of the industry.
SUNYIELD SY-24 System
The SY-24/24L standard antenna measurement system comes in two versions, which supports the frequency range of 400 MHZ~6 GHZ and 6 GHZ~18 GHZ respectively, and can measure the DUT with a diameter of 1.2 meters. It has become the mainstream antenna measurement system, widely used in the research and development of mobile phone terminal antenna and terminal antenna measurement for research institutes.
The near-field data measured by SY-24 can be transformed into accurate and reliable far-field data through strict and complex mathematical method to achieve high-precision measurement effect with both near-field and far-field. The feature is robust and advanced and other equivalent products in the market cannot match it.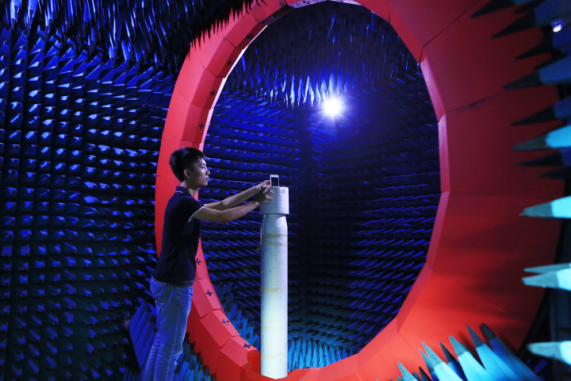 System Characteristics
Faster Measurement: With multi-probe in cyclic symmetric distribution, 3D measurement can be performed on DUT with a 180-degree rotation in horizontal direction under normal circumstances, and the measurement speed is much faster than measurement system with other probe distribution style.
Real-time display: The supporting analysis software provides real-time computing and display functions, which allow real-time viewing of active and passive directivity pattern as well as active power and sensitivity.
Powerful Function: For frequency range between 400MHz and 6GHz, it supports active measurement in most standards, such as 2G, 3G, 4G, WIFI, GPS, and BT etc. and also supports passive measurement with the same frequency range. Through software upgrade, no hardware upgrade required, it can support MIMO measurement, and can achieve passive test for high frequency version between 6GHz and 18GHz.
Strong Compatibility: It is compatible with common network analyzers and comprehensive measuring and test instruments by Keysight, Rohde & Schwarz and Anritsu etc.
Smooth Upgrade: The system can conduct LTE-CA measurement after software and hardware upgrade, and it can also be upgraded to support passive test for high frequency version between 6GHz and 18GHz.
admin